Click here to view Malta Course gallery
We are extremely proud of our Malta training campus, based at the 24/7 Fitness Centre in Ta' Qali National Stadium.
This training facility was recently renovated in January 2018 , is spread over 1100m2 and contains the most up-to-date cardio & strength training machines. In addition to the generously stocked cardio and weight rooms, the gym has a fully equipped functional training area, plentiful studio space and is in close proximity to Ta' Qali national park for outdoor training sessions. The campus also boasts a dedicated EPTI student classroom for the PT Diploma practical courses, providing a fabulous learning environment for students to gain the most from both the theory and practical parts of the course.
The practical courses run for two weeks and from 9am - 5pm each day, providing an intensive, but very through practical hands-on education. You can be rest assured that you will graduate with the confidence to deliver effective personal training to your future clients.
If the prospect of taking 2 weeks off to do the PT Diploma course all at once is difficult for you, we also offer the flexibility to split your practical course attendance across multiple practical courses.
You therefore have the option of completing the first week's training during week 1 of a practical course; and then the possibility of completing the second week's practical training by attending week 2 of a subsequent practical course date.

2020 COURSE SCHEDULE
Ta' Qali Campus, Malta

Feb 10th - Feb 22nd 2020 ENROLMENTS CLOSED
May 25th - June 6th 2020
Click here for course calendar

Gym & Classroom
Our Ta' Qali campus offers non-residential practical PT Diploma courses and is therefore perfectly suited to our students who are situated locally in Malta and Gozo. Our location is easily accessible by car and offers ample parking.
Students wishing to attend from further afield have the opportunity of enrolling onto this course and organising their own accommodation at one of the numerous hotels or holiday apartments that can be found in the area. Ta' Qali is closely accessible by Malta International Airport at Luqa.




Click here to view Campus gallery




Ta' Qali Map: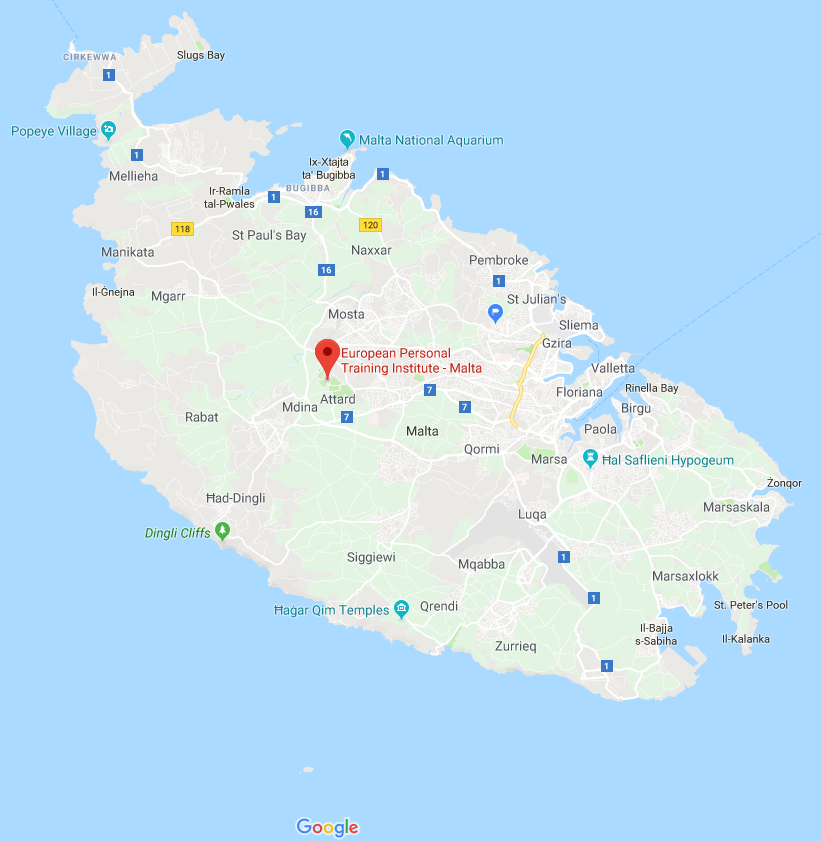 Please fill in the form below for more information…


Email:


Telephone: (UK) 0044 203 769 1106
(Spain) 0034 633 094 619
European Personal Training Institute