Displaying items by tag: Estepona Campus
Wednesday, 11 January 2017 22:59
So we find ourselves halfway through the spring practical course programme.... Just how fast has 2018 passed already ?!!?
We've encountered some very unspanish - Spanish weather so far this year. We had to deal with our fair share of rain on both the February practical course in Dénia and in March in Estepona.
However we're pleased to report that we were still able to get outdoors and put the students' through their paces with bootcamp instructor and outdoor personal training sessions, in albeit, rather blustery conditions!
For some peculiar reason, the first course was predominantly female and then the following course nearly all male!... weird!
Friday, 22 December 2017 11:29
Estepona Campus – Costa Del Sol, Spain



Click here to view Estepona Course gallery
The Estepona campus offers PT Diploma courses for both our 'course + accommodation' and 'course only' package options.
Estepona is ideally positioned for students situated locally in Andalucía or Gibraltar and is also closely accessible by both Málaga and Gibraltar Airports for students wishing to travel to Spain's sunny Costa del Sol from further afield.
Transfers from Málaga Airport to the student apartments is included within the 'course + accommodation package' (terms and conditions apply).
(nb: residential courses are also available at our Denia campus on the Costa Blanca, Spain)
We are proud to be located at the outstanding Centro Deportivo Las Mesas training facility (see more below). As a result, EPTI are able to offer students an exceptional learning and training environment to prepare themselves with becoming a personal trainer.
2020 COURSE SCHEDULE

Estepona Campus, Spain

April 13th - April 25th 2020 90% SOLD OUT
Click here for course calendar
GYM & CLASSROOM:
The 800m2 gym provides over 40 cardio machines, ample resistance machines and a dedicated free weight area for our students to practise their PT skills.
Many lessons are also taught in one of the five high quality indoor studios, or on the outdoor training terrace overlooking Estepona Port .
The course theory lessons are delivered away from the noise of the gym, downstairs in the purpose-built classroom.




Click here to view Campus gallery




APARTMENTS:
Our apartments are located midway between Estepona and Marbella (subject to availability with the letting agent). A daily minibus transfer to and from the gym is included within this package.
The apartments are fully equipped for a self-catering stay and have central heating, AC, Wi-Fi internet connection, parking and are handily located for the close by supermarkets, restaurants and El Saladillo beach.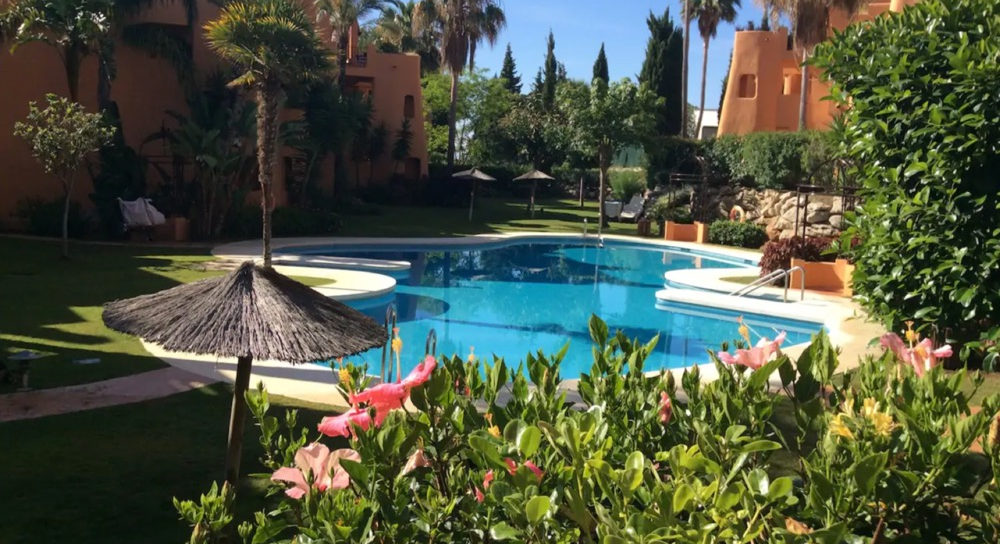 View Estepona Apartment Gallery
The Complex:
The apartments are in a fantastic luxury complex in Cancelada.
Lounge:
The open plan living room and dining area are tastefully furnished and also have a large TV, Sky Satellite and AC.
Kitchen:
The kitchen is fully equipped with oven, hob, fridge/ freezer, dishwasher, washing machine and spin dryer, microwave, coffee machine, kettle, plus all kitchen utensils. An iron is also provided.
Bedrooms:
Relax after a full day of study in your very own room. Each apartment has two bedrooms. The master bedroom has a double bed and ensuite bathroom, plus AC, central heating and Satellite TV.
The second bedroom has two single beds, central heating and a shower room.
All linen is provided.
Bathrooms:
The bathrooms are fully equipped. The ensuite bathroom has a bath, WC, basin and bidet; the guest shower room has shower, WC and basin.
All towels are provided.

Location of Estepona



Note to Gibraltar residents:
All Gibraltar residents are eligible for the Government Free Education Grant for Learning.
Applications open for grants between March – Sept. 2017
For more information, contact the Department of Education:
Minister for Education
23 QUEENSWAY
GIBRALTAR
Tel: 20077486
Email: info.edu@gibraltar.gov.gi
Director of Education: 20078638
Scholarships Line 1: 20045978
Scholarships Line 2: 20045977

Please fill in the form below for more information…