February 19th - March 2nd
Dénia campus, Costa Blanca - Spain
Despite a few last minute withdrawals form the course, Toby, Caroline & Mike welcomed 11 students to Dénia for the February practical course.
As ever, our students originated from a wide number of countries, but we had a Nordic feel about the course. Our February students came from the following countries and bonded really well as a group.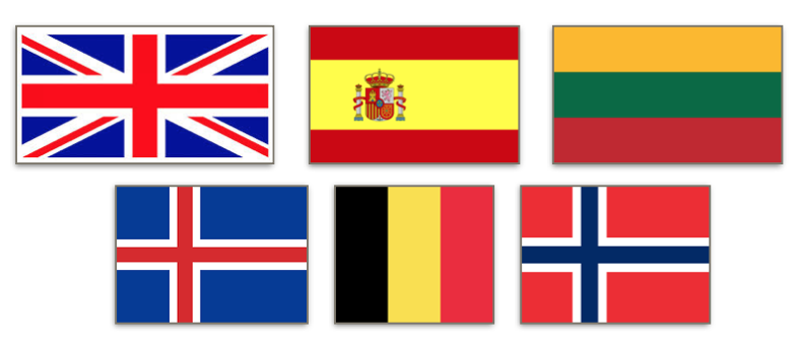 We're also pleased to note that both students who were enrolled on the Level 2 Fitness Instructor course have decided that the fitness industry is for them and they have already registered onto Master PT Diploma courses later this year.
Here's a few snippets of the action from the two week practical course...
March 12th - March 24th
Estepona campus, Costa del Sol - Spain
After just a week on from the previous course finishing (and being delayed on returning to the UK because of flights being cancelled due to the snow in southern England), Toby & Mike headed down to the Costa del Sol hoping to catch a few winter sun rays only to find stair rods of rain!
Again this practical course had a very international feel to it, with the majority of students flying in from the far and wide to attend Europe's number one personal training course.
As ever, we loved being in the amazing Las Mesas gym in Estepona. The teaching and training (...and cafeteria) facilities really are fantastic and make delivering the course an absolute pleasure.

Here's a few of the highlights from our time spent in Estepona with our students in March:

The EPTI team always take a keen interest in following and advising (when asked) our students' in their path within the fitness industry post-graduation. We love seeing the specialist niches that our PTs find themselves in, and none more so than with Konstantinos, who returns back to Ibiza and is set to embark on a fitness journey career by utilising his network of international DJs -
built up from his time working and promoting events at Ibiza's biggest nightclubs over the last 10 years.
What's next ?
Next up from April 16th - 27th, we are at our NEW campus in Ta' Qali, Malta. Toby, Mike & Phil are really looking forward to teaching on this sold-out course, in the newly refurbished national stadium gym and also to exploring Rabat & Mdina out of course hours.
And then before we break for summer, we're back to Dénia from May 7th -18th for another sold-out course where we also look forward to welcoming Chris back to our tutor team. He is taking a break from his new role as the regional fitness manager for Wiltshire County fitness centres and he is eager to return to teaching under the Mediterranean sun.
We are currently enrolling students onto the following practical courses later this year:
Denia Campus -
September 10th - 21st (only 2 spaces left)
November 19th - 30th
Estepona Campus -
October 22nd - November 3rd
Malta Campus -
October 1st - October 13th
For up to date practical course availability --> click here <--